Roberto Tapia is Starting Over With New Album
Roberto Tapia (Taylor Wong / LOL-LA)
Popular norteña and banda artist, Roberto Tapia has garnered fans internationally as a musician, actor and television personality. It's been a busy year for the singer-songwriter as he released his new album earlier this month on Oct. 6. Titled Este Es Solo El Comienzo (This is Just the Beginning), the new record is available on all digital platforms.
The first single, "Vamos a Darnos Un Tiempo (Let's Give Us Some Time)," was released this summer along with the accompanying music video. The song is about a relationship with a long history but with never-ending issues and the decision that space is needed because things just aren't working. Lyrics and a topic that many will relate to.
"I lived it. Sometimes, the best thing to do is let go and give each other space," Tapia says.
In fact, for Tapia, he says writing from experience is what works best for him as he finds it difficult to write about things that didn't happen to him.
While he was born in San Diego, he grew up in Culiacan, Mexico, and from an early age, his interest in music bloomed, and he began to study it at age 9. From there on out, he was on a path to stardom.
Since then, he's gotten more than 12 albums under his belt. He says he's gone through a giant evolution in his career. From his stage presence to acting to singing, etc.
Fans get to hear 14 new songs on the album, 12 of which he wrote, and can hear a new fresh sound this time around with different styles of guitar playing. Fear not, the banda style is still intact; it's just been tweaked a bit.
For the singer, he said the concept behind the album is reflective of the title. It's a new start, and he's very pleased about it.
The goal, he says, is to make each album different from the previous one.
"I like to think each album is a new start," he says.
Additionally, the album features collaborations with composer Giovanny Ayala.
October has already been filled with shows promoting the new release and allowing his biggest fans to experience the new songs in person.
"I think this has been my busiest year in the states," Tapia says. "I dared to perform a lot of shows in new areas for me."
If for some reason you're not familiar with Tapia's music, perhaps you've seen him on the hit television show "La Voz Kids (The Voice Kids)" as a judge, or as a judge on the Telemundo show, "Gran Oportunidad." Fun fact for fans of the show "El Señor de Los Cielos:" He did the theme song.
With a career spanning more than 20 years, Tapia states he feels happy with all that he has achieved.
You can view more info at universalmusica.com/robertotapia, and, of course, make sure to check out his social media accounts for up-to-date news and posts.
The new record is available now for purchase or download.
Marvin Vasquez contributed to this story.
Video Slider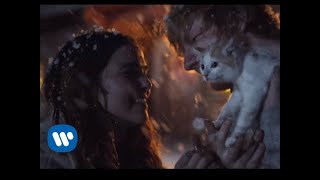 Win Tickets to See Ed Sheeran at the Rose Bowl
Ed Sheeran is back in Los Angeles, and your chance to see him perform is at the Rose Bowl in Pasadena on Saturday, Aug. 18. We are giving away complimentary tickets to the show. For a chance to enter to win, email us at info@lol-la.com with "Ed Sheeran" in the subject line and tell us why you would like to go.