Romp and Roost Changes the Playpen Game
Romp and Roost puts a unique spin on the usual playpen. (Jacqueline Felix)
The baby-product market is constantly expanding and giving parents a crazy amount of options to choose from. With all of the flashy and technology-driven devices, sometimes keeping things simple works best.
That's where Romp and Roost comes into play. Created by Ashley Whitman and her company, CappyBug, the practical yet stylish playpen puts a unique spin on the usual Pack n' Play.
Whitman created the product after being unable to find a playpen, which met all of her needs.
"Parenting and/or caretaking is a hard enough challenge, so I created it to help make parents' lives a little easier," Whitman says. "Romp & Roost is an oversized play yard that promotes a safe, large space for one or two little children to play and sleep."
The mother of two explains that carrying around two Pack n' Plays was difficult and, of course, took up a lot of space when traveling. As a result, Romp and Roost is described as a "divided nest for play and rest." The removable divider allows for two children to sleep comfortably or play in the unit without the need for two separate pens.
"If you have one child, they won't outgrow it as quickly," she says. "If you have two children, you can use it with the divider to begin, and then ultimately without it to have a play or sleep space for years to come."
When creating the product, Whitman says the patent process was difficult and took four years to get.
"To take a complex idea and turn it into an actual product while educating yourself on all of the certifications required to sell, is a huge challenge," she states. "That being said, I have learned and continue to learn so much, which is very exciting to me."
Currently, the Romp and Roost is available in a grey chevron print and also an aqua damask. They each retail for $218. They both measure 54 inches x 40 inches x 30 inches with a weight of 30 pounds.
The Portable play yard comes with a waterproof sheet and is surrounded with mesh material, which allows maximum ventilation. It's also easy to disassemble and comes with a carry bag. The recommended age for the Romp and Roost is 0-5 years with a weight limit of 70 pounds total.
The Romp and Roost Fitted Waterproof Sheet is also available for purchase on its own for $25.
In late Spring 2018, the brand will be launching Romp & Roost LUXE that will feature a streamlined divider, new technology to keep the mattress from shifting and a travel bag with wheels, Whitman shares.
To purchase and for more information, visit rompandroost.com.
Marvin Vasquez contributed to this story.
Video Slider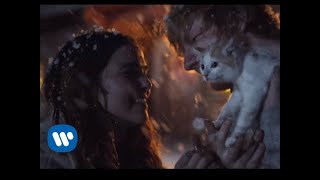 Win Tickets to See Ed Sheeran at the Rose Bowl
Ed Sheeran is back in Los Angeles, and your chance to see him perform is at the Rose Bowl in Pasadena on Saturday, Aug. 18. We are giving away complimentary tickets to the show. For a chance to enter to win, email us at info@lol-la.com with "Ed Sheeran" in the subject line and tell us why you would like to go.