Rooftop Cinema Club in DTLA Takes Outdoor Film Screenings to Another Level
Sit back and enjoy a recent release or old favorite at Rooftop Cinema Club.
A very popular way to watch films in Southern California and in the world these days is al fresco, which loosely translated from Italian means "in the cool air." One of the early proponents of this wonderful way to enjoy movies in the L.A. area is Cinespia, which hosts outdoor screenings since 2002, specifically at the Hollywood Forever Cemetery. Another popular series of outdoor film enjoyment is being promoted by Rooftop Cinema Club, which like its title states, is located on building rooftops.
The original location of this series, which started about a year ago and has chapters in New York and London, is the Ricardo Montalban Theater located in the heart of Hollywood. On Tuesday, June 6, at the beautiful and sophisticated LEVEL building located at 888 S. Olive Street in downtown Los Angeles, a new more expansive venue was inaugurated with a VIP showing of the animated and live feature Who Framed Roger Rabbit (1988).
Technically this venue is not on the "rooftop" but on the expansive fourth level of the building, which includes the pool, basketball court, outdoor furnished terrace with fire pits, along with a food kiosk. A delectable offering of buttery Connecticut lobster rolls, lobster tacos, accompanied by refreshing Prosecco, wine and other beverages were offered to all the guests as well as plentiful popcorn for the evening.
One of the most gratifying parts about watching a film outdoors, especially in an urban rooftop setting, is being able to feel as though you are literally on top of the world while you watch a film, any film as a seductive breeze kisses your cheeks. Because the LEVEL building is new, in a modern style and adjacent to an early 20th century structure, you can discern the metamorphosis that downtown Los Angeles is going through as more people, especially the young, are choosing to live in the city's historical core.
The setup for the film, just like at the Ricardo Montalban, entails comfortable, canvas lounge chairs (some accommodating two) with individual wireless headphones. In this case, the orientation of the projector's images is onto the side of an adjacent building's wall where a large white screen with art deco motifs has been painted on the surface. 
Even though some of the films shown at the Rooftop Cinema Club's screenings are not recent releases, this should not deter anyone from enjoying a beloved classic film again or for the first time. The fact that they are shown in unusual and sophisticated venues like the LEVEL building in downtown Los Angeles will allow your senses and body to reach a higher level of enjoyment – literally!
For more information on upcoming screenings and to purchase tickets, visit rooftopcinemaclub.com/los-angeles.
Video Slider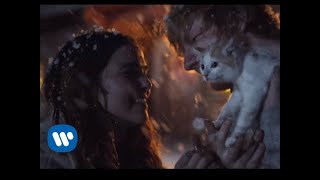 Win Tickets to See Ed Sheeran at the Rose Bowl
Ed Sheeran is back in Los Angeles, and your chance to see him perform is at the Rose Bowl in Pasadena on Saturday, Aug. 18. We are giving away complimentary tickets to the show. For a chance to enter to win, email us at info@lol-la.com with "Ed Sheeran" in the subject line and tell us why you would like to go.