Ryan Carnes Reminisces about New Film, La Boda de Valentina
Ryan Carnes as Jason in La Boda de Valentina (Pantelion Films)
Love is currently in the air, and to keep with the theme, a romantic comedy is fitting and slightly necessary.
For audiences who want a break from sappy love stories, La Boda de Valentina will become your best friend.
Out in theaters now, the film stars Marimar Vega, Omar Chaparro, Kate Vernon, Sabine Moussier, Ryan Carnes, Christian Tappan, Alvaro Carcaño, Jesús Zavala and Tony Dalton.
Written by Santiago Limón and Issa López, La Boda de Valentina centers around Valentina (Marimar Vega).
Living her best life in New York with a perfect job and dreamy boyfriend, Jason Tate (Ryan Carnes), Valentina has made an effort to stay far away from her scandalous and political family in Mexico.
Unfortunately, that all changes when Jason proposes and wants to meet her family.
Hilarity ensues as two worlds collide, and if meeting the family wasn't enough, Valentina's ex boyfriend, Angel (Omar Chaparro) shows up to cause even more of a mess.
As if her life wasn't already being completely thrown into chaos, it gets even more complicated once a sham marriage to Angel is plotted to help her family deal with negative press.
Naturally, the two men make fools of themselves, much to our delight and amusement, while trying to outdo each other and win her over.
For fans of the iconic soap opera, "General Hospital," Carnes played Lucas Jones.
The Illinois native has appeared in numerous TV shows including "Desperate Housewives."
He was also able to work alongside his childhood hero, Clint Eastwood in Letters from Iwo Jima.
For Carnes, he said reading a script is usually done from a technical standpoint however, La Boda de Valentina prompted a pleasant outburst.
"I don't have a visceral reaction where I actually laugh out loud," he explained. "This one, I actually laughed."
"I thought it was hilarious, the characters were extremely well written and well defined and very human," he stated. "The story was great and compelling."
When speaking of his connection to his character, Carnes says they're both romantics and idealists.
As for working with his costars, the actor described the experience as a pleasure.
"It's nice to get to work with people who are team players and whose main goal is to make the project the best that it can be."
He had nothing but praise for his costars, Vega and Chaparro.
"They're both extremely professional and easy to work with," he said. "They're good people, they're humble."
He described them as having a generous nature and always being fun to be around, both on and off set.
Watch and get emotionally invested as Valentina chooses where her heart truly belongs and of course, watch the chemistry between all the actors.
The film is heartwarming, but also incredibly funny and is especially relatable for those who grew up in Latin households.
Whether you're celebrating Valentine's Day or are just having a night out, La Boda De Valentina is an excellent choice (knowing Spanish isn't required to enjoy it or understand it).
To find locations near you playing the movie and to purchase tickets, visit www.labodadevalentina.com.
Marvin Vasquez contributed to this story.
Video Slider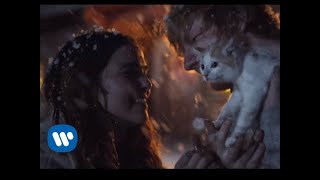 Win Tickets to See Ed Sheeran at the Rose Bowl
Ed Sheeran is back in Los Angeles, and your chance to see him perform is at the Rose Bowl in Pasadena on Saturday, Aug. 18. We are giving away complimentary tickets to the show. For a chance to enter to win, email us at info@lol-la.com with "Ed Sheeran" in the subject line and tell us why you would like to go.