Sad Robot Unveils Short for "I Want You Bad" Helmed by Dream Team Directors
Bayou Bennett and Daniel Lir of Dream Team Directors
L.A. indie rock band Sad Robot previews its latest album with the short film for "I Want You Bad," directed by husband and wife team Bayou Bennett and Daniel Lir (aka Dream Team Directors). The music video presents two young models (Melany Bennett, Harley Prechtel-Cortez) clothed in fashions evocative of eras ranging from the swinging '60s of London to '70s disco era through the pastels of the 1980s "Miami Vice," but what the video is most reminiscent of is modern-day Silver Lake.
Whether the models are dressed like Twiggy or Don Johnson, the Sad Robot video seems most like a brief look into the L.A. hipster, and there is no better soundtrack for something like that than an L.A. indie rock band. The song itself – by Sad Robot duo Kat Pawlak and Nick Perez – seems perfectly designed to find a place in a closing montage of a Shonda Rhimes television show, just as several of their previous songs have been featured in network television promos and commercials. The only question is whether it will be Ellen Pompeo, Viola Davis or Kerry Washington staring plaintively into space as "I Want You Back" suggests just how temporal romance, like the fashions featured in the video, can be.
Video Slider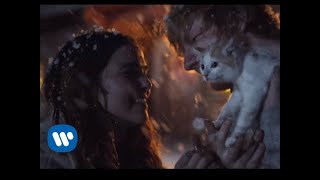 Win Tickets to See Ed Sheeran at the Rose Bowl
Ed Sheeran is back in Los Angeles, and your chance to see him perform is at the Rose Bowl in Pasadena on Saturday, Aug. 18. We are giving away complimentary tickets to the show. For a chance to enter to win, email us at info@lol-la.com with "Ed Sheeran" in the subject line and tell us why you would like to go.