Samuel L. Jackson Talks Hollywood Legends, Franchises and Kong: Skull Island
Samuel L. Jackson as Preston Packard in Kong: Skull Island
Samuel L. Jackson has been one of the most recognizable and prolific actors in Hollywood for the past 25 years, and on the set of Kong: Skull Island, he was the idol of the younger cast members, who had grown up on Jackson's many, many movies. And how did that make Jackson feel?
"Old, I guess," Jackson jokes before becoming more circumspect. "It's a badge of honor of sorts. I remember when I first got to Hollywood and met specific people who impressed me. When I met Sidney Poitier, he sat down and talked to me. And Gregory Peck, which was awesome, I remember I kept a message from him for three years back when we had answering machines. It's cool, but I don't know if I am who I thought those guys were."
"There was a time when you never thought you would meet people like that," Jackson explains. "That was a scale of Hollywood fame or legend that just doesn't seem touchable. In this world we live in now, people don't ask for autographs, they ask for photos to post. Actors become a lot more accessible, and the mysticism of movies is gone."

For Jackson, starring in a King Kong movie was a way to connect to that bygone era of filmmaking, which inspired him even as a child.
"I probably saw the original on television. I was knocked out by the movies, period. I wanted to grow up and be Errol Flynn, jumping from ship to ship with a sword between my teeth. I loved King Kong, Godzilla, Mothra and the like, to the point where if something like that comes across my desk, it's a no-brainer."

Joining the universe of King Kong places Jackson in yet another franchise, after supporting roles in the three Star Wars prequels and numerous Marvel movies. The increasing prevalence of these franchises in Hollywood does not bother Jackson, who sees it as giving audiences the movies they desire.
"It's good for movies in the same way it's good for people who binge-watch series or for people who are pissed off that the dude won't finish the last fucking 'Game of Thrones' book. I read those! Write the fucking book," Jackson exclaims. "People tend to attach themselves to different things they want. If a movie is good enough, you want a follow-up. Sometimes you can overdo it, like with the Matrix series, but not always. People still love following the Star Wars and Star Trek movies. People have been shouting about the death of movies for a very long time, and there is an ebb and flow. Back then, everyone said how television was shit, and now they say it's awesome. There's a market for everything, and people have been signaling the death of movies since tape, but people will always like going into that big, dark room together and having that shared experience."
So many of Jackson's various franchises elicit excitement from fans, including a long-awaited sequel to his Pixar hit.
"When I went into the studio the first day to do The Incredibles 2, I took a picture of a microphone and a stand, and people lost their shit online." The posting did not go over well in some quarters, however. "After I posted the picture, I got an email from Disney. No more posts. I guess they don't like free advertising."
Samuel L. Jackson is so ever-present in films for a simple reason.
"I want to do everything!," he says, "I'm always open, and I'm always game. I would love to do a Nick Fury movie, but Marvel has two Infinity War movies and Brie Larson's movie, Captain Marvel, but maybe Nick will be part of it."
The one film in which Jackson does not appear, however, is the upcoming Black Panther, starring Chadwick Boseman. Jackson wanted to appear, but Marvel producers explained that Nick Fury wouldn't be in the Panther's homeland Wakanda.
"The one black character in the Marvel Universe, and I don't show up?"
Kong: Skull Island is in theaters March 10.
Video Slider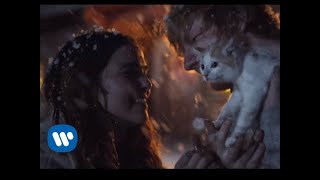 Win Tickets to See Ed Sheeran at the Rose Bowl
Ed Sheeran is back in Los Angeles, and your chance to see him perform is at the Rose Bowl in Pasadena on Saturday, Aug. 18. We are giving away complimentary tickets to the show. For a chance to enter to win, email us at info@lol-la.com with "Ed Sheeran" in the subject line and tell us why you would like to go.