Satisfy Your Sweet Tooth at Blue Cake House
A gorgeous cake creation from Blue Cake House
Nothing brings people together like food … more importantly, dessert. Treat yourself and indulge in some homemade pastries from the delectable Blue Cake House. From heavenly cakes to luscious cupcakes, flan and cookies, you'll need to pry yourself away from all of the sweets. If you have any sort of celebration coming up, place an order and enjoy the tasty treats.
Below is a Q&A with Pilar Castañeda, owner/creative & marketing director of Blue Cake House. She along with her sister, Sally (co-owner and main designer), and their father, Manuel (member of the creative team and master baker), aim to please their customers and keep them coming back for more.
To see photos of the creations, follow instagram.com/bluecakehouse or visit facebook.com/bluecakehouse.
LOL-LA: What inspired you to make this business a reality?
PC: At the time, my dad and my sister Sally were working at Rosebud Cakes, a well-known cake design bakery in Beverly Hills. My dad had been working at Rosebud as the baker for well over 20 years and gained an immeasurable amount of experience. Growing up, my sisters and I had seen the talent and dedication in the world of cake decorating, and it wasn't long before Sally took interest. The people at Rosebud took her under their wings and taught her everything there was to know about cakes. The owners, the talented Elin and Alan Katz, decided to take on new ventures and closed the shop. Seeing this opportunity, we decided to start our own family business. 
LOL-LA: Where does your passion for cakes and designs come from?
PC: Two of our biggest inspirations are Elin Katz and cake designer Cory Pohlman. Seeing how passionate they are in creating art gives us the motivation to continue. Also, our passion comes from everything we see in our daily lives, especially our customers. Seeing their faces when we deliver our cakes and how happy they are, not only to take a delicious cake but an edible piece of art, gives us the greatest joy.
LOL-LA: How did you come up with the name of the business, and why did you choose it?
PC: It's very hard to choose a name. We had a few choices in mind, but we were not convinced. We knew we wanted to throw in the word "blue" because it was Sally's favorite color. We were brainstorming one day and surprisingly, our then 10-year-old niece, Monse, a bright and imaginative kid, blurted out the phrase. It's incredible how as adults we overthink everything, but to kids, creativity comes naturally.
LOL-LA: What's the most popular flavor and filling for cakes right now?
PC: The top three flavors that our customers always ask for is our White Velvet Cake with Cream Cheese filling with fresh fruits, our Marble Cake with Mocha filling, and our Carrot Cake with Cream Cheese filling.
LOL-LA: What's a common design that your clients ask for, and why do you think that is?
PC: A common design that our customers request are for themed kid's movie characters, varying from superhero characters to any movie that's popular at the moment. People also enjoy our simple designs with natural flowers. It carries a classic and timeless simplicity that I think everybody loves.
LOL-LA: What's the weirdest design request you have received so far?
PC: I think the weirdest order we have received was when a customer requested a gigantic eyeball with tentacles sprouting out from below. It was enormous, and it looked super cool and creepy in person.
LOL-LA: For what occasions are your cakes available for? Please give us a range of prices.
PC: Blue Cake House caters to any event you can imagine, from bridal showers to birthday parties, corporate events, anniversaries, movie screenings — you name it, and we can do it.  We also make cupcakes and other delicious desserts. Pricing varies from $65 and up, depending on the design and amount.
LOL-LA: Where are the cakes made?
PC: Blue Cake House gets creative in our lovely home kitchen. We don't have a storefront yet, but we are working on it!
LOL LA: Overall, what's been the most rewarding thing for you so far?
PC: The most rewarding thing is when customers reach out to us after receiving their cake. They leave us with such beautiful and kind words, and that to us, makes everything worthwhile.
Marvin Vasquez contributed to this story.
Video Slider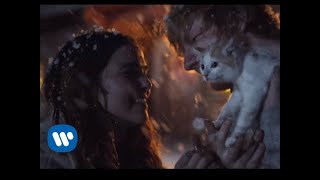 Win Tickets to See Ed Sheeran at the Rose Bowl
Ed Sheeran is back in Los Angeles, and your chance to see him perform is at the Rose Bowl in Pasadena on Saturday, Aug. 18. We are giving away complimentary tickets to the show. For a chance to enter to win, email us at info@lol-la.com with "Ed Sheeran" in the subject line and tell us why you would like to go.