Singer/Rapper C-Kan Chats About His Music and Charity Efforts in His Native Mexico
Get to know hip-hop artist C-Kan.
Influential, urban rap and hip-hop artist of Mexico C-Kan took some time to talk with Living Out Loud – Los Angeles recently about his music. With more than five million followers on Facebook, more than three million subscribers on Youtube and a music video for "Vuelve" that has garnered more than 130 millions views, it's like he's unstoppable. He's collaborated with artists like Frankie J, MC Magic and Kid Ink, among others. Currently topping the charts in Spain and Columbia, as well as just coming off tour in the US, but the artist still makes time to come back home to Mexico for charity work close to his heart.
LOL-LA: How would you describe your music and vibe for international audiences and folks here in the states.
C-Kan: Presently, I think that social media platforms would call it urban music. I carry the flag of rap, no matter where I am or what genres I collab in. First and foremost, I'm a rapper. I like talking about social justice with rap.
LOL-LA: Tell us about your background. Where does the name C-Kan come from?
C-Kan: The C is from my barrio, La Cancha. It's part of what I am, what made me. Kan for cantando.
LOL-LA: Growing up, what were your musical influences?
C-Kan: Back then, whatever was on the radio. I loved music from the United States; it was the golden age of Dr. Dre and Snoop Dogg. The Chronic, the Snoop tour. I loved the beat and how they dressed even if we didn't know what they were saying. Big Boi and the greatest hits in Spanish from Cypress Hill. I was like, "Damn. You can do this in Spanish?" For me, hip hop was just the United States'. I imagined that it would be like gringos trying to do mariachi. I tried up until that point. It was theirs. When I heard it in Spanish, I knew I could do it, too.
LOL-LA: How would you describe your musical journey from then 'til now?
C-Kan: I think, thanks to the Internet, the stuff on YouTube – all these platforms facilitate creating things without depending on a label. We're indie. We use our own money for our projects. It's the freedom for the public to pick what they want to listen to. It's not just what the radio or TV gives you, it's now you being able to spin around the world on your own accord. Rappers in Cuba, Panama, Argentina, the US and Mexico – there's such a growth in all genres. I do this because it fulfills me and drove me. I had three jobs, I had a son to provide for and studio time to save up for. Love for the art and culture.
LOL-LA: Your track 'Vuelve' is leading the top of the charts, and you just wrapped up your tour here in the states. Where do you go next with your music and path?
C-Kan: With Mexico City just having gone through the earthquake, I'm going to go back home. I want to know how everyone is. I want to spend time back at home, and then before the year is out, I'll be back here and working. But now I want to go see how I can help my people. I'm going to continue to work with Dr. Sonrisas to meet kids battling conditions that are terminal at times. I want to help make dreams come true. I'm thankful for the kids who hold me close to their hearts. I don't know what I've done to deserve that. I feel so blessed.  I want to keep writing my work like my music videos and have plans for an autobiographical film. I want to be in front of the mic.
For more information, visit facebook.com/CKanMEX.
Marvin Vasquez contributed to this story.
Video Slider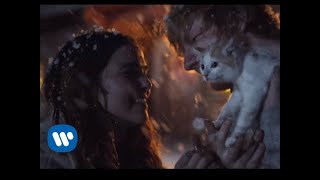 Win Tickets to See Ed Sheeran at the Rose Bowl
Ed Sheeran is back in Los Angeles, and your chance to see him perform is at the Rose Bowl in Pasadena on Saturday, Aug. 18. We are giving away complimentary tickets to the show. For a chance to enter to win, email us at info@lol-la.com with "Ed Sheeran" in the subject line and tell us why you would like to go.