Snow Day LA Brings a Winter Wonderland to Southern California
Enjoy a White Christmas at Snow Day LA.
Feeling festive and wishing for a White Christmas? Well, you don't have to travel far or deal with the hassle of driving in icy weather to make your dreams a reality. Thanks to Snow Day LA, Southern California's largest winter festival, the Hollywood Hills have been transformed into a whimsical scene straight from your favorite holiday films.
Held at the Old Lodge in Elysian Park, you can stroll through holiday lights, pose for the perfect photos under snow flurries, wear your onesies (see below) and celebrate the season. Partnering with the non-profit, Operation Gratitude, this year's celebration features several new additions. For those unfamiliar with the volunteer based-organization, they send care packages and letters of appreciation to U.S. troops, first responders, veterans, military families, wounded heroes and their caregivers.
Drop by the new life-sized Ginger Bread Themed House to write a message or decorate a holiday card as a show of thanks. In addition to the Ginger Bread House, the five-acre park also features Winter Downhill Tubing, a skating rink, animated Penguin Holiday Light Path, giant snow globe photo booth, interactive Mountain Yeti photo booth and kid-friendly Slap Hockey. Of course, you can also grab snacks and drinks to boost your energy to go tubing or ice-skating.
With the weather constantly being unreliable and ruining the expected holiday temperatures with heat, Snow Day LA is the perfect escape. Tickets start at $12 for general admission, and park hours are from 6 p.m. to 10:30 p.m.
There are only two weekends left (Dec. 15-17 and the 22-23), so act fast and go before it's over. Now, if you're feeling extra festive, you can pick up a VIP (Very Important Penguin) ticket for $59. Along with enjoying seasonal beverages, VIP guests will receive a penguin or polar bear onesie. Frankly, that's reason enough to purchase the VIP pass.
Admission tickets don't include all of the activities, those will have to be purchased separately. Ice skate rentals are also available for anyone who needs them.
Drop by, see the adorable light displays, have some fun with family and friends and make sure to fully enjoy the atmosphere.
To purchase tickets, visit snowdayla.com.
Video Slider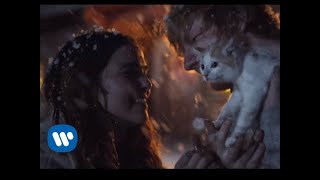 Win Tickets to See Ed Sheeran at the Rose Bowl
Ed Sheeran is back in Los Angeles, and your chance to see him perform is at the Rose Bowl in Pasadena on Saturday, Aug. 18. We are giving away complimentary tickets to the show. For a chance to enter to win, email us at info@lol-la.com with "Ed Sheeran" in the subject line and tell us why you would like to go.