Some Artistic Accounts to Follow on Instagram  
One of the breathtaking photos you can see on Trashhand's Instagram (@trashhand)
Normally when you go on Instagram you see pictures of the same old thing: memes that aren't funny, people being drunk from the night before and, of course, way too many selfies. I suppose that's what Instagram was made for, but there is also a whole community of people who use Instagram as a creative outlet, to share experiences and take pictures that are truly breathtaking. There are people out there who see the world in a different way than most people and want to share their visions with the world. Here are three must-follow accounts on Instragram to bring life and a breath of fresh air to your feed.
Chris Ozer (@chrisozer) – Chris Ozer hails from Brooklyn, N.Y. He is a husband and father of two young sons. Ozer's photo journey began in 2009 when he decided that he wanted to use photography as his main artistic outlet. He specializes in portraits and landscapes. His work has been on display at the International Center of Photography and the museum of the City of New York. Ozer puts a stamp on his photos by using beams of light to brighten up his subject, whether it is a portrait or beautiful landscape. His work has been commissioned by companies such as: TOMS, Mercedes-Benz and Stella Artois, just to name a few.
Trashhand (@trashhand) – Trashhand is from Chicago, Ill. His photography focuses on city landscapes and rural areas, as well. His photos normally have a very dark feeling to them. Most of his shooting takes place in the urban streets of Chicago. He specializes in pictures that have a lot of symmetry to them and, by using different angles, he makes the city stand out and look more beautiful than it already is. Trashhand's work is currently being commissioned by Chromeo. He also been commissioned by Nike and Nike Running.
Timothy McGurr (@13thWitness) – Also from New York, McGurr's photos are simply breathtaking. They feature skyscrapers like you've never seen them before. He makes you see the city of New York as a work of art, using his mind and his camera. He utilizes every inch of the city to make it a masterpiece. From taking pictures hanging off the top of a skyscraper or from the inside of a helicopter to snapping a photo underground in the subway, he is able to make it all amazing art that captures the eye and the mind.
I hope you enjoy following these people as much as I do.
Video Slider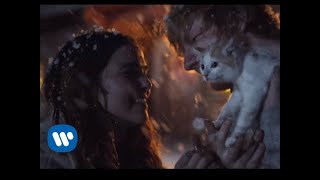 Win Tickets to See Ed Sheeran at the Rose Bowl
Ed Sheeran is back in Los Angeles, and your chance to see him perform is at the Rose Bowl in Pasadena on Saturday, Aug. 18. We are giving away complimentary tickets to the show. For a chance to enter to win, email us at info@lol-la.com with "Ed Sheeran" in the subject line and tell us why you would like to go.