Star Tucker Albrizzi, Special Effects Supervisor J.D. Schwalm Talk Monster Trucks
(l-r) Tucker Albrizzi, Danny Glover, Jane Levy and Lucas Till in Monster Trucks (Paramount Pictures)
Not only is Monster Trucks a science-fiction film, but it also sports quite the load of action and comedy, led by Lucas Till, Jane Levy and Tucker Albrizzi.
The 17-year-old Albrizzi (I Am Number Four, Bridesmaids) is not one to shy away from the camera, particularly if he gains an interest in and fondness of the story.
"When I was reading the script at the audition, it pulled me in. I wanted to know more about these characters," says Albrizzi, who portrays Sam, a friend of Tripp (played by Till). "I wanted to know more about the creature, and just the story in general was very intriguing to me."
Essentially, Monster Trucks depicts a high schooler (Till) who finds an interesting thing inside his truck: a harmless, sweet and playful escaped monster.
Asked about what similarities there are between him and his character, Albrizzi says, "We share a lot of similarities. We are both nerdy. We both want Tripp to succeed."
Albrizzi also mentions director Chris Wedge turned out to be rather tolerant in terms of script spontaneity.
"He was pretty lenient," says Albrizzi. "Of course there is always a script, and you are always supposed to follow it, but wherever it is organic and natural is really where it shines. If we finished a scene and something didn't feel right, we were able to add button or something like that. Anything that promoted the film in making it more clearer or more rounded."
One thing to note of Monster Trucks is its special effects (which are beyond fun and thrilling in an adventurous way), which special-effects supervisor J.D. Schwalm takes great pride in, especially because it was a challenging project.
"We encountered challenges since day one. Every day was a challenge, and each challenge was different from its own," says Schwalm, who was in charge of making the truck move, the squid act or be like a human, amongst other things. Schwalm also adds that he and Wedge closely worked together from beginning to end.
Schwalm's most recent credits include The Fate of the Furious and The Jungle Book, among a ton more, but Monster Trucks is definitely a flick he is very happy with in terms of his work.
"It's a different type of film. Never before had I done things like in this movie. We are all very happy. Everything came out just wonderful," says Schwalm.
Monster Trucks is now available on Blu-ray and Digital HD; it's the perfect Easter gift and just right for the entire family. It features over 40 minutes of action-packed behind-the-scenes bonus content and includes collectible movie wall decals, among other things.
Why is this film special? Albrizzi doesn't hesitate to answer.
"I think this movie is special because it is a really well-rounded family film. There are a lot of messages," he says. "There is a message about coming together as a team and working hard. Doesn't matter where you are from; you can accomplish a goal. And there is [a message] about animal conservation, protecting the environment and not messing with the habitat. There are a lot of good messages in this film."
Video Slider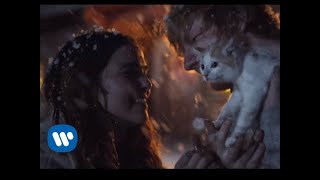 Win Tickets to See Ed Sheeran at the Rose Bowl
Ed Sheeran is back in Los Angeles, and your chance to see him perform is at the Rose Bowl in Pasadena on Saturday, Aug. 18. We are giving away complimentary tickets to the show. For a chance to enter to win, email us at info@lol-la.com with "Ed Sheeran" in the subject line and tell us why you would like to go.