How to Succeed in the Art of Film Scoring: Kevin Lax Reveals His Secrets to Thriving in the Film and TV World
Living Out Loud – Los Angeles: Tell us about your experience working on Burning Sands. 
Kevin Lax: Scoring Burning Sands forced me to delve deep into an aggressive an uncomfortable world, but also one with deep meaning and truth. While it brought out my darker side, I made sure to frame it in a thoughtful and meaningful way. Making sure it is meaningful and can connect with your audience is one of the most important things in film scoring,
LOL-LA: What sets you apart from rest of the audio professionals?
KL: Perhaps my versatility, whether this is writing lush orchestral music, producing contemporary hip-hop/pop music or composing experimental electronic music, I'm able to find something creatively stimulating about the genre at hand. Being versatile also offers you more work opportunities.
Beyond versatility, my specialty is writing melodies because regardless of the genre the melody is always part of the equation and something the listener can always appreciate. 
LOL-LA: What lessons did you learn while scoring documentaries for high-profile musicians like Mary J Blige and Chris Brown?
KL: Working on both documentaries was amazing and a great learning experience for me. One thing I learned is that before you begin working on a documentary, especially if it's on another musician, it is essential that you spend time learning more about the subject (or in this case, listening to a bit of their catalog). You do this so the music you write is informed. Brown has a pretty extensive inventory of songs, so I drew inspiration from vibing out to his material. At times, I felt a little pressure knowing that Chris Brown would be evaluating my music, but he was pleased with it when the whole film wrapped, so that was certainly an encouraging factor. 
LOL-LA: Can you take us through the process of creating a movie score?
KL: Like with every project, I listen to a lot of music before I start writing to avoid falling into a rut. This always helps open the ears to perhaps unconsidered musical directions. I listen to music that inspires me or music from the genre of the project at hand, and allow it sufficient time to seep in. Then I focus on developing themes, whether these are melodic/harmonic ideas or more textural/sound design in nature. Once all of this is in place, scoring the project typically goes pretty quickly. 
LOL-LA: Are there any particular secrets to your creativity?
KL: Collaboration is something that unleashes creativity for me. Whether working with a director/producer or colleague, I think sharing music regularly and being open towards others' opinions is key.  It helps open up directions one might not have considered otherwise. 
LOL-LA: Any directors, composers or specific people you'd like to collaborate with in the future and why?
KL: I'd love to work with Miyazaki or Joe Hisaishi because I think their work is so inventive and definitely transports you to a new world, or perhaps with Spielberg or John Williams, who have such a remarkable catalogue of imaginative work. 
For more information, please visit kevinlax.com.
Video Slider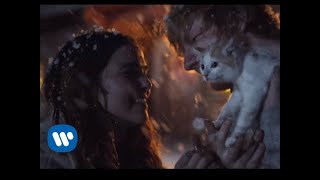 Win Tickets to See Ed Sheeran at the Rose Bowl
Ed Sheeran is back in Los Angeles, and your chance to see him perform is at the Rose Bowl in Pasadena on Saturday, Aug. 18. We are giving away complimentary tickets to the show. For a chance to enter to win, email us at info@lol-la.com with "Ed Sheeran" in the subject line and tell us why you would like to go.