SuicideGirls Introduces Chill Hustle Zero Cannabis Vape Cartridges
Treat your Valentine to a taste of SuicideGirls Cannabis.
The future is here and guess what? Weed is going to be legal everywhere. The most recent election brought California into the mix. As the state sorts out how it's going to handle the funds generated from taxation, one company is speeding ahead of the game to make sure they are ready with product and branding.
SuicideGirls, the oldest social network that is populated by inked-up women and an alternative lifestyle, has embraced the sticky icky. The user base of their community ranges from straight-edge (no booze, no drugs) to some pretty hardcore elements. It's the open-mindedness of all of them that has helped the site and brand grow into a worldwide name.
To capitalize on this, SuicideGirls is rolling out their own line of designer weed. Yes, you heard that right. They are throwing down the gauntlet as the first to correctly do the marijuana thing.
The product comes in three strains to offer users a variety of options: Chill (Indica), Hustle (Sativa) and Zero (Hybrid). The cartridge is a preloaded oil that screws into most vape pens. The packaging is flawlessly awesome. A thick plastic container labels each and has a light stand inside to make sure you can place your cartridge back and not lose it. The presentation is excellent, and the style is on point. It's clean and sharp.
Figuring out if the stuff is any good was the next step, and I went out to find a variety of people that smoke often to those that use it here and there. The consensus from the sample was very consistent in all areas. The results showed that they loved the style and ease of use. They felt that it was packaged way better than any other products out there and had a zero leak factor.
As far as potency, the avid smokers felt it was nice but not too strong. They tried all three types and loved the taste and appreciated that they didn't get too stoned off a few hits. Some mentioned that they don't like weed that's too strong because they enjoy the actual smoking process.
The users that we're lighter on the spectrum said it was awesome. They felt it had a clean taste and didn't give them the hangover that a hard joint would or the really strong weed that's out there in oil form. They also loved the ease of use and how it was discrete and didn't leave them smelling like pot afterward.
The price is $55 each and they are 1ml. There is not a CBD version available yet. The cartridges are available at participating dispensaries throughout California listed at chill.suicidegirls.com.
Video Slider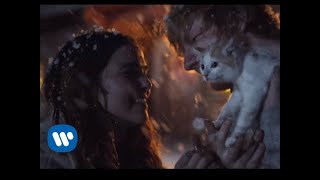 Win Tickets to See Ed Sheeran at the Rose Bowl
Ed Sheeran is back in Los Angeles, and your chance to see him perform is at the Rose Bowl in Pasadena on Saturday, Aug. 18. We are giving away complimentary tickets to the show. For a chance to enter to win, email us at info@lol-la.com with "Ed Sheeran" in the subject line and tell us why you would like to go.