Super Sub Mike Magee Powers Galaxy to Win in Season Opener
Midfielder Mike Magee (right) turned in a man-of-the-match performance in the Galaxy's season opener.
There was little room for self-reflection for the Los Angeles Galaxy after getting ripped apart earlier in the week in Mexico in the CONCACAF Champions League quarterfinals. After an underwhelming preseason with several new players at key positions, the Galaxy welcomed D.C. United, a team that was also beaten by Mexican opposition earlier in the week, to StubHub Center on Sunday, March 6.
After a lackluster start, the Galaxy overcame an early D.C. goal and a first-half injury to goalkeeper Dan Kennedy to beat the Black-and-Red 4-1. 
"I think it's a good kind of win for us," said Galaxy coach Bruce Arena after the game. "We had to come from behind, dig a little bit and work really hard."
Steven Gerrard, considered by many to have been one of the weak links for the Galaxy last season, didn't do much to shed that notion when he ham-handedly lost the ball to Lamar Neagle, who was able to sneak a shot past Kennedy from outside the box. The early goal triggered a wave of boos from the 25,667 in attendance at StubHub Center. After the game, Gerrard told reporters he was ill but opted to stay in due to injuries to Kennedy and Giovani dos Santos. 
The Galaxy controlled possession for the remainder of the half but looked out of sync and unpolished in the final third, which saw them head into the break trailing their Eastern Conference foes. 
A leg injury to dos Santos paved the way for the fortuitous return of former MLS MVP Mike Magee to start the second half, who turned in a man-of-the-match performance in just 45 minutes on the pitch. His first contribution came nine minutes into the second half, when Daniel Steres hammered home a Magee corner kick to make things level. Steres, making his MLS debut, fought his way through a crowded box and headed in from close range. 
"It was a corner kick, and we needed to get back in the game," said Steres, a Southern California native. "Gyasi [Zardes] kind of got a pick for me, and I just found some space, saw the ball the last second and put it in. I got to give Gyasi [Zardes] a lot of credit. We've worked on a couple plays like that, and he did a good job giving me a pick."
Magee put the Galaxy ahead for good in the 64th minute, when he handled a powerful cross from Sebastian Lletget with his feet gracefully, then used his fine touch to chip D.C. goalkeeper Andrew Dykstra from inside the box. 
The 2-1 lead did little to appease the Galaxy's appetite in the second half, and they continued to pressure the United back line. D.C. looked tired as the game wore on them, and in the 82nd minute it was Magee again who wreaked havoc on their defense when he found himself in front of Dykstra to put the game away. The United 'keeper tripped the pesky Magee and referee Kevin Stott pointed at the spot, which cued up Robbie Keane, who beat Dykstra from the spot to make it 3-1. 
"We knew what [Magee] could do," said Keane. "First time around he was here he was brilliant, and he's continued on from there."
Magee gave Arena something to think about for next week's lineup, and in the process, salvaged a good moment for Gerrard when he headed home a precise pass from the right foot of the former Liverpool skipper past a helpless Dykstra to put a festive bow on the evening. 
"I just came in here with one thing in mind: to win games," said Magee. "I think I'll keep pushing [Bruce Arena] to start me no matter how fit or healthy I am. That's my goal, but I think Bruce [Arena] has earned the right to dictate who plays where and when. I might argue with him, but I'll accept it."
The Galaxy travel to Commerce City next week to face the Colorado Rapids Saturday, March 12 at 4 p.m. Although Arena said dos Santos' injury was nothing serious, his status for the game is unknown. 
Video Slider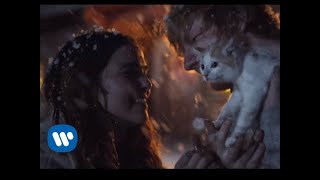 Win Tickets to See Ed Sheeran at the Rose Bowl
Ed Sheeran is back in Los Angeles, and your chance to see him perform is at the Rose Bowl in Pasadena on Saturday, Aug. 18. We are giving away complimentary tickets to the show. For a chance to enter to win, email us at info@lol-la.com with "Ed Sheeran" in the subject line and tell us why you would like to go.