Talking Diversity and The Shape of Water with Octavia Spencer
Sally Hawkins and Octavia Spencer in The Shape of Water (Fox Searchlight Pictures)
Octavia Spencer's personal assistant enters the room before her interview to bring her a cup of tea, and the Academy Award-winning actress seizes the chance for another performance. She asks for a straw in a grande dame voice that mocks the diva behavior that people expect from stars, as if asking for the most minor of conveniences is a demand straight out of The Devil Wears Prada. And a role like Miranda Priestley is the type that Spencer might want to play, which is why, in the wake of her second Oscar nomination and a possible third for her role in Guillermo del Toro's The Shape of Water, she has started to produce her own material.  
After roles such as Hidden Figures and The Help, Spencer wants to broaden the scope of her roles, particularly those in the 1960s time period in which she has spent so much time.
"I'm going to take a break from serious pieces, because as a woman of color who didn't exist during that time period, it's tough playing a woman who had no agency whatsoever. I played a mathematician who had no civil rights or agency but persevered, and a maid who had no agency but persevered. I'm tired of persevering! I want to play a serial killer! I want to try different things that might not fit, and they may be the most ridiculous thing ever, but I want to try."
Instead of another good-hearted, sympathetic supporting character, Spencer wants to have more fun, she exclaims.
"I want to be the psycho who hops out of the closet. I want to do what Kathy Bates did in Misery. You want to have different layers and show other hues in the crayon box."
Despite this, Spencer's role in the del Toro film fits so comfortably among the actress' most acclaimed roles, and not simply because of the craft she brought to all three.
"I had just played a character who worked at NASA, and I had played a maid, and now I'm playing a maid who works at NASA," Spencer notes about her role in the literal fish-out-of-water monster-movie romance. "I played women from this era three times, and yet they are very different characters, and for me this was the first one who felt contemporary. Yes, it was still during the '60s before these women have rights and agency, but I didn't have to play those as my circumstances. My narrative was entirely about who I was as a woman and how unfulfilled I was in my relationship. Guillermo found a way to make it fresh and unique for me, and I fell in love with the central love story because I'm a hopeless romantic."
Even beyond that, Spencer was drawn to The Shape of Water not simply because of the fantasy romance at its core, but because of the story's political resonance.
"The movie has two main characters who cannot speak, and he chooses as their voice an African-American woman who is part of the invisible realm because of her working-class status and a closeted gay man, two of the most ostracized groups during the '60s."
Spencer's character in the film, Zelda, interacts primarily with Elisa (Sally Hawkins), a mute janitor who communicates with her through sign language, and the role had personal resonance for her.
"I have a brother who is a deaf-mute," she explains, "So this was very normal to me. But he didn't want me or my siblings to learn sign language because he wanted us to talk to him. He reads our lips, and anything we can't quite get across we write to him. Last year after I learned sign-language for the film, it was great to go home for Christmas when it was fresh in my mind and surprise him. So working with a character who couldn't speak didn't feel one-sided at all."

Spencer's essential monologues in The Shape of Water provided an unexpected challenge for the actress, however.
"As an actor who is dyslexic, I need the vocal and audio cues from other people's dialogue to learn my lines, and my scenes with her were mostly running monologues. Sometimes if they were about my character's husband I knew what they were about, but the non-sequiturs like my speech about short people were more difficult."
With a Supporting Actress Academy Award, another nomination in the category last year and a likely third coming for this film, Spencer is used to the designation as a supporting actress, but found that her role in The Shape of Water as well as those apart from the lead role played by Sally Hawkins, were developed in a way that few films do.
"As a writer as well as an actress, I'm used to playing roles that support every other character's narrative, and I play them because even though the character may be underdeveloped, I still loved the project as a whole," she explains. "But what Guillermo and [his co-screenwriter] Vanessa Taylor did, though, was different. If you took my character's scenes out of the movie and ran them, it would be a little independent film. Each character had their own arc, and we visit every character's home away from the workplace, and he did it within that limited amount of time. Every character can have a full arc without detracting from the main story, and I marveled at how every character was well-rounded and full, right to my character's big build-up."

In the wake of several years of Oscar controversy over a lack of diversity in the roles Hollywood both creates and awards, the subject is one with which Spencer is well-acquainted, and that is part of the reason why she has branched out into producing her own material.
"The squeaky wheel gets the grease, and people aren't writing these roles for me. I have to make them myself. They aren't writing them for Reese Witherspoon either, so she has to find material and produce it for herself. Even when you look back at Joan Crawford finding Whatever Happened to Baby Jane but not getting the producer credit for it, this isn't something new, and I can either complain or get more involved, not just for myself but for other women of color"
"I want to see a movie where there's a baby at 0 months and a 100-year-old person who can still remember his lines, because that's what life is. Unless you're in a dormitory, you're not going to be surrounded by just 18 to 25-year-old cookie-cutter cutouts. I want to see all walks of life, all shades of brown and white and blue and green. That's what diversity is to me."
The Shape of Water releases in select theaters Dec. 1 and additional cities Dec. 8.
Video Slider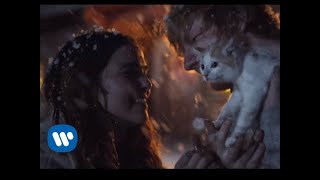 Win Tickets to See Ed Sheeran at the Rose Bowl
Ed Sheeran is back in Los Angeles, and your chance to see him perform is at the Rose Bowl in Pasadena on Saturday, Aug. 18. We are giving away complimentary tickets to the show. For a chance to enter to win, email us at info@lol-la.com with "Ed Sheeran" in the subject line and tell us why you would like to go.