The Game: Five Reasons to Love the Rapper
There are plenty of reasons why you should love the Game.
Compton rapper Jayceon Taylor, aka the Game, made a huge mark on the rap game in 2005, when his debut album, The Documentary, sold over five million copies. Since then he's had several other hits and platinum albums, as well as trying his hand in several other endeavors. 
He's been no stranger to offstage incidents, but there is a lot to love about the West Coast rapper. Here are five reasons to love the Game, who recently performed at Club Nokia in downtown L.A.

1) His Live Concerts – Some of the best rap concerts I've had the chance to attend to have been the Game's. He brings more than just verses and rhymes – he's a showman. He always makes it a point to interact with the audience and bring lots of his longtime friends up on stage, often giving fans motivating words between songs and telling them about his own hardships. From big venues like the Microsoft Theater to smaller venues like the El Rey Theatre, the Game is a rapper you must see at least once before he hangs 'em up. 
2) He Embodies West Coast Rap – In a time when there are so many different styles of rap, the Game has skillfully stayed true to his roots and maintained a style that pays tribute to the local pioneers that came before him. He cites meeting fellow Compton rapper Eazy-E at age 13 as an influential moment in his life. Whether you listen to The Documentary, last year's The Documentary 2 or anything in between, you can count on an album that's bold and audacious and yet, unapologetically West Coast. 
3) He Got Game – Sorry, couldn't resist the terrible pun. While at Compton High School, the Game was an avid baller. According to him he averaged just under 15 points a game for the Tarbabes and was apparently offered a basketball scholarship to Washington State University. He still plays every summer alongside several NBA stars in the renowned Drew League – a foundation that hosts exhibition games in the L.A. area – and holds his own against the pros. 
4) He's Charitable – The Game has always been among the most charitable rappers. However, he's a little different than most in that he rarely aligns himself with charitable organizations to help people. Rather, he has often gone on his own to help people in need on social media or by being a modern-day Robin Hood to people who need help. In 2013, he teamed up with Drake to give $20,000 to an Ohio woman who lost her five children and boyfriend in a fire to help her pay for funeral expenses. In September of that year he paid the $10,000 needed to pay for the funeral of Tiana Ricks, a 6-year-old who was gunned down outside her Moreno Valley home in a gang-related attack. Later he pledged to give $1 million to people all over the world "just because I feel like it" as part of a program he began called the Robin Hood Project. Since starting this inspirational charity, he has given money to people who need help paying for funerals, the homeless and even people who need a little assistance paying for Christmas presents. 
5) He Has Overcome So Much – A rapper with a difficult upbringing isn't necessarily unheard of, but the Game's past has been marked with an inordinate amount of trials and tribulations from an early age. He was in foster care from age 7 to 15 because both his parents were drug addicts; he grew up in a Crip neighborhood to parents who were Bloods; his cousin was murdered for his clothes; at 13, his 17-year-old brother, who had recently signed a record deal, was gunned down at a gas station in Compton. Despite all the chaos, he's managed to focus his energy and resources on doing good for people and communities all over. 
For more information, visit comptongame.com.
Staff writer Christian Esparza contributed to this story.
Video Slider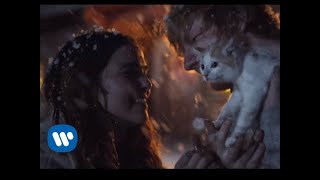 Win Tickets to See Ed Sheeran at the Rose Bowl
Ed Sheeran is back in Los Angeles, and your chance to see him perform is at the Rose Bowl in Pasadena on Saturday, Aug. 18. We are giving away complimentary tickets to the show. For a chance to enter to win, email us at info@lol-la.com with "Ed Sheeran" in the subject line and tell us why you would like to go.