Top 10 Things to Do Around LA this Weekend: December 27-29
Ja Rule performs at this year's Fresh Fest.
Just because Christmas has come and gone doesn't mean the holiday fun is over for the year. You can catch a classic film, a concert or a play – there are options for every mood you might be in. This is the last weekend of 2013, so make it a good one.
Friday, December 27
FILM
The Cure: In Orange @ The Cinefamily (Mid-City West)
There is perhaps no other musical group that represents the introduction of 1980s goth to American pop culture more to me than the Cure. Tim Pope, director of over 37 of the Cure's videos (including "Close to Me," "Just Like Heaven" and "Friday I'm in Love"), captured the English fivesome's Aug. 9, 1986 concert at the Théâtre Antique d'Orange in The Cure: In Orange. The show at the nearly 2,000-year-old Roman venue happened a few months after the release of the band's Kiss Me, Kiss Me, Kiss Me double album, which became their first to reach the Billboard Top 40. This concert film hasn't been released on DVD, so you should definitely take advantage of tonight and tomorrow night's screenings that are being presented by the Cinefamily and Part Time Punks.
Vertigo @ Egyptian Theatre (Hollywood)
By now you've probably had your fill of James Stewart in It's a Wonderful Life, but why not see the beloved actor in another classic, which also happens to be my favorite Alfred Hitchcock movie, Vertigo. In the 1958 psychological thriller, Stewart is a former police detective whose acrophobia and vertigo pushed him into early retirement. He takes on a case as a private investigator, following a man's wife (Kim Novak) around San Francisco, and she eventually becomes his object of obsession. The film is gorgeous, as well as visually and emotionally jarring – what's not to love?
MUSIC
The Aggrolites @ Echoplex (Echo Park)
Although the L.A. reggae group released a live album, Unleashed Live Vol. 1, last year, there's still nothing like experience them in person. Since forming in 2002 as the backing band for Derrick Morgan, the Aggrolites have come to be known for their combination of reggae with soul and funk, dubbed as "dirty reggae," which was also the name of their 2003 debut. Four full-lengths later, and they're still going strong. This show falls in the middle of their Reggae Wonderland Holiday Tour, and is sure to have the Echoplex floor shaking to the beat.
PLAYS
"Peter and the Starcatcher" @ Ahmanson Theatre (Downtown)
Neverland has always captured the imaginations of children and adults alike, and it's been a hot topic since the third season of ABC's "Once Upon a Time" has primarily taken place on the magical island. But this innovative, Tony-winning play based on Dave Barry and Ridley Pearson's bestselling Disney-Hyperion novel of the same name, is sure to appeal to theater-goers of every age. As a prequel to J.M. Barrie's Peter and Wendy, you learn about Peter Pan's backstory and follow him on his adventure aboard a ship called Neverland to the island that eventually becomes his home. Through Jan. 12, 2014.
Saturday, December 28
COMEDY
"Doctor Who Live" @ iO West (Hollywood)
I've mentioned my love for "Doctor Who" before, so you know I'm down for this show. You don't have to be a Whovian, however, to enjoy the comedic talents of the "Doctor Who Live" cast. The actors choose a suggestion from the audience that provides inspiration for them to improvise an entire episode of the sci-fi show on stage. The talented cast has performed everywhere from the Gallifrey One convention to Stan Lee's Comikaze, and you can see them live at iO West every second and fourth Saturday of the month.
MUSIC
Circa Survive @ Shrine Expo Hall (South Los Angeles)
It's been over a year since the Philadelphia prog rockers have played in Los Angeles, so they are making this show a special one. The entire performance is being filmed for a live release slated to hit stores next year. Make sure to brush up on the lyrics from all four of their studio albums, including their latest from 2012, Violent Waves, so that when the camera heads your way, you will be totally in sync with Anthony Green as he belts out each word. Just don't say I didn't warn you about the mosh pits that are sure to erupt from the first chord Circa Survive strikes on stage.
Fresh Fest @ Nokia Theatre (Downtown)
Just when you thought all of the holiday radio shows had come and gone, KDAY 93.5 slips one more festival in before the final countdown to 2014. If you love hip-hop, then this is the concert for you. There is something for all the old-school aficionados, as well as fans of contemporary artists, with a lineup that includes the Game, Ja Rule, Mystikal, E-40, Too $hort and many more. This is going to be one night not to miss.
Sunday, December 29
ART
Hurra! @ 1301 Abbot Kinney Blvd. (Venice)
Architect/graphic designer Camilla Hjerl and the Raveonettes' Sharin Foo are two Danish women who have made Los Angeles their home, and they're so dedicated to promoting cutting-edge art and culture from their native country that they launched the hurra-hurra.com web shop last year. The Hurra! pop-up gallery is the second stage of their three-step plan to create a permanent platform to showcase new Danish art and design here on the West Coast. They've created a gallery/boutique space on Abbot Kinney that features work from Jakob Boeskov and products from brands such as Lucky Boy Sunday, Frama and Wood Wood. The pop-up has been such a success so far that it has been extended through Jan. 31, 2014.
MUSIC
Dillon Francis @ The Fonda (Hollywood)
While Friday and Saturday's shows are sold out, tickets are still available for this last evening of the native Angeleno's four-night stand at the Fonda Theatre, so act fast. MTV named him an "artist to watch" in September, and he's definitely a rising star in the EDM scene. As an added bonus, dancing to Francis' sonic creations, like his latest single "Without You" featuring Totally Enormous Extinct Dinosaurs, is the perfect way to work off some of those extra calories you consumed eating stacks of Christmas cookies.
PLAYS
"Play Dead" @ Geffen Playhouse (Westwood)
The opening minutes of the show, created by magicians Todd Robbins and Penn & Teller's Teller, are performed in total darkness, setting the tone for a thrilling and mesmerizing evening. Be prepared for some gruesome yet brilliant tricks woven with crafty storytelling and telepathy in this production that takes a look at life, death and the in-between. Through Jan. 12, 2014.
Video Slider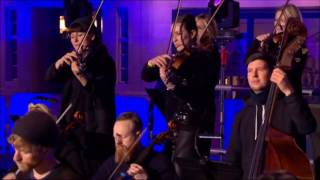 Win Tickets to See Pete Tong at Hollywood Bowl
Pete Tong is back in Los Angeles, and your chance to see him perform is at Hollywood Bowl on Thursday, Nov. 9. We are giving away complimentary tickets to the show. For a chance to enter to win, email us at info@lol-la.com with "Pete Tong" in the subject line and tell us why you would like to go.