Top 5 Movies by Terry Gilliam
Gilliam's visually intense films often polarize fans and critics alike (Source: Collider.com)
Terry Gilliam has had his fair share of filming mishaps, box office flops, and harsh critics. But in spite of those challenges, he's still managed to give fans a filmography as beautiful and thought provoking as any other director's.
Gilliam's current project, The Man Who Killed Don Quixote, is just about guaranteed to also be a visually enticing movie that will some will love, and some will hate. But whether it will break into our top five Terry Gilliam movies is anyone's guess.
The Adventures of Baron Munchausen (1988)
The follow up to Brazil and the conclusion to Gilliam's unofficial 'Trilogy of Imagination' series, The Adventures of Baron Munchausen wasn't a big box office earner but today is one of his most beloved films. Based around the folk legends of the real Munchausen, the imaginative film stars fellow Python alumni Eric Idle, Jonathan Pryce, Uma Thurman, and a young Sarah Polley.
Despite enduring budget issues, (mostly baseless) rumors that Gilliam and the project were out of control, and a minimal advertising push, the film received favorable reviews from the critics and has held up well decades later.
The Imaginarium of Doctor Parnassus (2009)
While for many it will be nothing more than the answer to a tragic piece of cinema trivia, The Imaginarium of Doctor Parnassus was arguably Gilliam's greatest work in over a decade. The tragic death of Heath Ledger during shooting famously forced Gilliam to get creative and recast Jude Law, Johnny Depp, and Colin Farrell to play different dream world reincarnations of the eponymous character.
The result was one that some say made the film hard to follow, but most agree the film was a great return to the stylistic richness of Gilliam's earlier works with the added bonus of some all-star performances. The story of Parnassus' travelling troupe of miscreants in an ever-changing dream world was nominated for a number of production design awards and won Best Costume Design at the International Press Academy's Satellite Awards.
Fear and Loathing In Las Vegas (1998)
Gilliam wasn't Rhino Films' first choice to direct Fear and Loathing, but today it's hard to imagine anyone doing Hunter S. Thompson's classic novel more justice. Upon release it was equally panned and applauded by critics, but has since risen to cult classic status.
That stature and its Las Vegas setting make the film perfect fodder for quoting in online casino chat rooms and as posters in college dorm rooms everywhere. This doesn't come as a surprise considering the gradual growing popularity in online casinos since the launch of the movie. Leads Johnny Depp and Benicio del Toro's drug trip through Sin City is just that to watch, a trip, and is a model specimen of Gilliam's visually entrancing yet divisive style.
Brazil (1985)
It may surprise you to know that Gilliam's fourth film, Brazil, rates even higher than Monty Python on Rotten Tomatoes, boasting a score of 98%. Labelled by Gilliam as "1984 for 1984″', Brazil is a satirical take on the kind of totalitarian government depicted in Orwell's famous novel.
The cult classic follows the ordinary Sam Lowry (played by Jonathan Pryce), a low-class government worker that has regular daydreams about a beautiful woman (Kim Greist). Lowry's world is a dystopian, work-obsessed one and chaos ensues when he encounters the woman in real life and the two accidentally get involved in the case of a man's wrongful arrest and death committed by the government.
Monty Python and the Holy Grail (1975)
The gold standard of Gilliam's films will always be his first (that he also starred in), even if it's style is far removed from the one he would later become famous for. Co-directed along with fellow Monty Python member Terry Jones, the Holy Grail was the comedy group's second film and an instant classic.
The slapstick parody of King Arthur's (Graham Chapman) quest to retrieve the Holy Grail is as heralded today as it was upon its release, and is always near the top of Funniest Movies of All-Time lists. Trying to recapture the magic he created with his troupe over 40 years ago might be a fool's errand for Gilliam, but as adventurous a director as he is, never say 'Ni!'.
Video Slider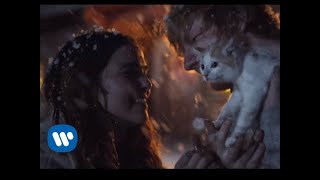 Win Tickets to See Ed Sheeran at the Rose Bowl
Ed Sheeran is back in Los Angeles, and your chance to see him perform is at the Rose Bowl in Pasadena on Saturday, Aug. 18. We are giving away complimentary tickets to the show. For a chance to enter to win, email us at info@lol-la.com with "Ed Sheeran" in the subject line and tell us why you would like to go.