Tranquilo Mat: Motion Soothing for Babies
Tranquilo Mat's large mat is ideal for placing on top of a mattress.
Fussing babies have a hard time adjusting to life outside the womb, and with that in mind, the Tranquilo Mat was created to give little ones some familiarity within their surroundings. It's a portable mat that soothes by vibrating gently to simulate the constant movement babies were used to in the womb.
You can use it in the crib or on the go to help keep an environment about them that is similar to their time in a parent's womb with constant motion and sounds that simulate the noises that they were used to hearing, like mom's heartbeat. It even mimics the sound within its gentle vibrations and design. Much like white noise, the Tranquilo Mat provides comfort by combining the feeling of a womb with similar sensations.
Babies are calmed by the mat's re-creation of a familiar space in their transition period. They're able to be soothed and find comfort in the vibrations. Colicky babies are especially soothed, but the Tranquilo Mat works perfectly for naps, bedtime and fussing moments throughout the day, too.
The mat comes in a small and large size depending on your needs. The large mat ($99.99) provides hands-free help when placed on top of a mattress, baby area or floor surface. The small mat ($84.99) is better for on-the-go environments like a car seat, smaller spaces, swaddling in your arms or being transported in a carrier or wrap.
You can adjust between various modes depending on your little one's needs. There are three levels of vibrations, two heartbeat modes, waves and sounds that recreate womb comfort. It's battery operated and cord free with 60 hours of use depending on size and settings most used.
There are also wonderful designer style covered Tranquilo Mats that can go with a child's room and things. We love the arrow and flower designs, which you can find online for $24.99 at tranquilomat.com.
Video Slider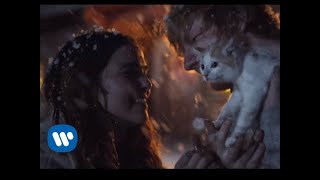 Win Tickets to See Ed Sheeran at the Rose Bowl
Ed Sheeran is back in Los Angeles, and your chance to see him perform is at the Rose Bowl in Pasadena on Saturday, Aug. 18. We are giving away complimentary tickets to the show. For a chance to enter to win, email us at info@lol-la.com with "Ed Sheeran" in the subject line and tell us why you would like to go.