Umami Burger Locations Expand Menu
The Trattoria Burger at the Downtown location is one of the exciting new burgers from Umami Burger.
Five Umami Burger locations have expanded their menu, and this rollout will eventually make it to all Umami Burgers. Umami Burger Broadway (downtown Los Angeles), Umami Burger at the Grove, Umami Burger Pasadena, Umami Burger Santa Monica and Umami Burger Costa Mesa recently added new items with exclusive burgers.
At the Grove, the Kinoko Burger is now available. It includes portobello mushroom buns, a super healthy grilled chicken breast, basil pesto, parmesan, arugula, cherry tomato confit, goat cheese and balsamic glaze.
The Pasadena location features the Pepperbelly Burger with a house beer-cheddar cheese stuffed beef patty, Umami chili, Fritos crumble, pickled serranos and roasted garlic aioli.
You can also try the Loco Moco in Santa Monica. Within the rice patty buns, you'll get a tasty beef patty with gravy, fried egg and chives.
In Orange County, you can visit the Costa Mesa venue and order the California Samurai which contains a beef patty, teriyaki, miso-maple bacon, tempura avocado, fried egg and miso mustard 13.
One of our favorite burgers is the Trattoria Burger in DTLA. Bacon lardon is served on top of a beef patty with crispy capitol, arugula, parmesan frico, roasted garlic aioli and roasted pine nuts. It's an interesting concept with a delicious result.
Umami Burger's new menu also features expanded non-beef options, sides and much more. The highlights include Japanese Wings (with a soy glaze and shichimi pepper mix), Gochujang Sliders and the Crispy Diablo (fried chicken breast, diablo sauce, roasted garlic aioli, dill pickles, spicy slaw).
As usual, all locations carry their signature burgers (such as the Truffle Burger) and exquisite sides like the sweet potato fries, tempura onion rings and cheesy tots, among others.
All of the new burgers are a must try! Visit umamiburger.com to find the location nearest you.
Video Slider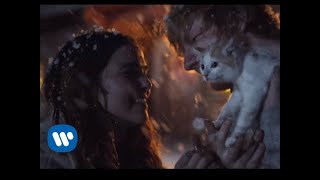 Win Tickets to See Ed Sheeran at the Rose Bowl
Ed Sheeran is back in Los Angeles, and your chance to see him perform is at the Rose Bowl in Pasadena on Saturday, Aug. 18. We are giving away complimentary tickets to the show. For a chance to enter to win, email us at info@lol-la.com with "Ed Sheeran" in the subject line and tell us why you would like to go.