Unforgettable: A 'Powerful' Experience for Star Rosario Dawson
Rosario Dawson stars as Julia Banks in Unforgettable (Karen Ballard)
In the new psychological thriller Unforgettable, Katherine Heigl stars as Tessa Connover, a woman barely coping with the end of her marriage when her ex-husband, David (Geoff Stults), becomes happily engaged to Julia Banks (Rosario Dawson) – not only bringing Julia into the home they once shared but also into the life of their daughter, Lily (Isabella Rice). Trying to settle into her new role as a wife and a stepmother, Julia believes she has finally met the man of her dreams, the man who can help her put her own troubled past behind her. But Tessa's jealousy soon takes a pathological turn until she will stop at nothing to turn Julia's dream into her ultimate nightmare.
The film is the directorial debut of prolific producer, Denise Di Novi. Some of her earlier producer credits include Heathers, Batman Returns and Practical Magic, while some of her later credits include Crazy, Stupid Love and Focus. Unforgettable is the rare film, in that, not only are the two leads female, but most of the writing, direction and production team are female as well. As part of the testosterone-oozing Marvel universe, Dawson was thrilled to be a part of this estrogen-centric set.
"What I loved about this was the chance to work with a bunch of remarkable women. It was a multi-faceted story where the women weren't perfect. I think it's interesting to watch these women struggle with this image of perfection – and in this drive for perfection, what gets lost in the way because of miscommunication. You can get so caught up in the heat of the moment. I felt a part of every single one of these women. It wasn't like, 'Oh, she's bad, and I'm good.' In real life, I've handled being upset not that well, so in the film, we get to see the full spectrum of what it means to be passionate."
Tessa and Julia are both very passionate women and, as Dawson just mentioned, neither character is totally good or totally bad. Beyond a first glance, Dawson thinks their characters have more in common than you might think.
"You can feel the similarity between our characters. The words that aren't spoken and the closets that aren't aired show the opportunities that are missed for these two women to probably relate very closely to each other. What's different about them is used as a competition instead of a commonality, which is very unfortunate. We're both trying to hide our scars both literally and figuratively. We look at weak moments as nothing other than weak moments, and we don't want to share that. We see how relationships that shouldn't break, break. So we are careful with that, and sometimes we make choices, that, in a different circumstance, we'd do differently."
A long time ago, there was a line from a movie: The older you get, the more baggage you accumulate. In Unforgettable, the two lead women both carry similar baggage but have chosen to check their baggage in different ways.
"My character almost has the benefit of experiencing a distinct trauma that she can isolate that's not glossed over. In the same way with Tessa and her mom, there's something not spoken about with certain family dynamics and how that kind of abuse isn't spoken about. For my character, she had a father who was an alcoholic and a boyfriend who was very physically abusive to her. She got psychological help and got the tools to deal with it. You're seeing a woman who was a victim, but she's now a survivor, and she's putting those tools to work to become someone who's thriving."
Unforgettable is a film about different types of abuse. This is a cause that's personal to Dawson, who has been an advocate against violence against women most of her life.
"I've been a spokesperson for different campaigns. I've worked with the Purple Purse campaign which helps domestic violence survivors. I'm on the board of V-Day, an organization from 'The Vagina Monologues,' which aims to end violence against women around the world. When I was young, my mom worked at W.O.M.A.N., Inc. in San Francisco which was my first real experience in this wonderful infrastructure that some people choose to create to help people like my character who ends up alone. She doesn't have family. She doesn't have a lot of friends. A lot of times in an abusive relationship, the abuser cuts you off from the herd, so to speak. Then you end up desperately needing that abuser more and more. To know that a woman like my mom was on the other side of that door for a woman when she's ready to ask for help – that there were strangers ready to help – that was always so powerful for me."
Unforgettable is in theaters April 21.
Video Slider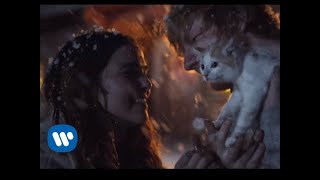 Win Tickets to See Ed Sheeran at the Rose Bowl
Ed Sheeran is back in Los Angeles, and your chance to see him perform is at the Rose Bowl in Pasadena on Saturday, Aug. 18. We are giving away complimentary tickets to the show. For a chance to enter to win, email us at info@lol-la.com with "Ed Sheeran" in the subject line and tell us why you would like to go.