Universal CityWalk Welcomes Margaritaville March 30
Jimmy Buffett brings good vibes, drinks and bites to Margaritaville at Universal CityWalk.
"Wastin' away again in Margaritaville." —Jimmy Buffett
While Margaritaville at Universal CityWalk is currently going through its soft opening. The countdown to 5 o'clock is on! On Thursday, March 30 singer-songwriter and best-selling author Jimmy Buffett and the Coral Reefer Band perform at the grand opening of the restaurant inspired by Buffett's music.
This special occasion marks the opening of the first Margaritaville in California and fans can enter to win tickets to Buffett's invite-only performance on the Margaritaville stage at huniversalstudioshollywood.com/margaritavillesweeps. Bringing the seaside retreat to one of Los Angeles' biggest destinations makes perfect sense. Now we can finally hold two margaritas and run while dinosaurs escape the Jurassic Park ride like in Jurassic World.
Movie references aside, this dining venue invites guests to get away for lunch and dinner in a casual environment that invokes palm trees, island music and thatched enclaves. Under this ambiance you can dine on signature dishes like the LandShark Lager Fish & Chips, Jimmy's Jammin' Jambalaya, Volcano Nachos or a Cheeseburger in Paradise. And, of course, you can sip on specialty drinks like the Who's to Blame Margarita or the 5 O'Clock Somewhere boat drink.
What's really cool about the location is that every room is themed. The main dining room is inspired by one of Jimmy Buffett's favorite South Florida waterfront concerts. The location also boasts three bars: the Volcano Bar, Land Shark Bar and 12 Volt Bar, and are all themed around Jimmy Buffett songs. There's even a giant exploding volcano that erupts margaritas at certain times. The restaurant is fully equipped to be a live music venue as well with performances every evening. Outside, the restaurant features a Porch of Indecision with more live music. Then there's the Lone Palm airport, which is a tiki bar with a variety of drinks and quick bites to eat.
Follow @CityWalkLA to keep up to date with the latest!
Video Slider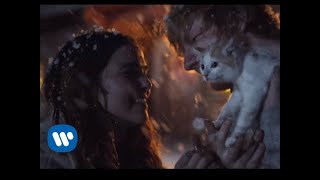 Win Tickets to See Ed Sheeran at the Rose Bowl
Ed Sheeran is back in Los Angeles, and your chance to see him perform is at the Rose Bowl in Pasadena on Saturday, Aug. 18. We are giving away complimentary tickets to the show. For a chance to enter to win, email us at info@lol-la.com with "Ed Sheeran" in the subject line and tell us why you would like to go.