The Utopia That Never Was at Barnsdall Park
The Hollyhock House, designed by Frank Lloyd Wright (City of Los Angeles)
Shortly after getting my architecture degree from Cal Poly, San Luis Obispo I returned to Los Angeles where I settled into a working routine. While reading a local paper I came across an advertisement stating the need for volunteer docents at the famous Hollyhock House designed by American master architect Frank Lloyd Wright, one of my architectural idols. I ended up becoming a docent and led tours for over 5 wonderful years.
The Hollyhock House is located on top of what was called "Olive Hill" (for its 1,225 olive trees). This large city block is located between Hollywood Boulevard on the north, Sunset Boulevard on the south, North Edgemont Street on the west and North Vermont Avenue on the east. During the early 20th century, a very wealthy socialite, Aline Barnsdall decided to come west and develop a theater company in Los Angeles and bought "Olive Hill," which she envisioned as an artist colony that would include her residence, several guest houses, artist shops and studios, as well as a motion-picture theater.
Prior to her plans for relocating to Los Angeles, Barnsdall had lived in Chicago where she met the famous architect Wright, whom she picked to plan the entire site and design all its buildings. "The Hollyhock House" was named after Aline's favorite flower, and you can see abstraction designs of this flower on the pre-cast concrete details throughout the main house. Due to the high cost of construction and maintenance, only the main house and two guest houses of the project were built.
In 1926 Barnsdall donated the house, guest houses and 11 acres of the block to the City of Los Angeles to use as a public park in memory of her father, Theodore Barnsdall. Several buildings were later added in the 1950s and 1960s that include an art center, a modern theater, an art gallery and studios.
As the premier American architect, the works of Wright have been lauded around the world and a total of 21 Wright-designed buildings in the United States have been nominated as UNESCO World Heritage sites, including Hollyhock House.
Barnsdall Park is accessible by car and by the adjacent Metro red Line's Sunset/Vermont station. There are many activities in the park and buildings, including a farmers' market, Friday Night Wine Tasting, art exhibits and tours of "The Hollyhock House." Several of the buildings are available for rental to non-profits and private events.
For more information, visit barnsdall.org.
Other Buildings and Homes By Frank Lloyd Wright in Los Angeles
Open to the Public
Anderton Court: 332 Rodeo Drive, Beverly Hills CA 90210 (Shops)
Private Homes
Ennis House: 2607 Glendower Avenue, Los Angeles 90027
Freeman House: 1962 Glencoe Way, Los Angeles 90068
Millard House: 645 Prospect Crescent, Pasadena 91103
Storer House: 8161 Hollywood Blvd, Hollywood 90069
Sturges House: 449 N. Skyewiay Road, Brentwood 90049
Arch Oboler Gate House & Studio: 32436 W. Mulholland Hwy, Malibu 90265
Video Slider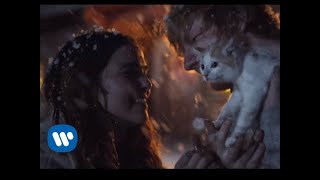 Win Tickets to See Ed Sheeran at the Rose Bowl
Ed Sheeran is back in Los Angeles, and your chance to see him perform is at the Rose Bowl in Pasadena on Saturday, Aug. 18. We are giving away complimentary tickets to the show. For a chance to enter to win, email us at info@lol-la.com with "Ed Sheeran" in the subject line and tell us why you would like to go.