Vadhir Derbez, Sebastián Zurita, Paulina Dávila Talk 3 Idiotas
Martha Higareda, Vadhir Derbez, Christian Vazquez, German Valdez and Alfonso Dosal in 3 Idiotas. (Pantelion Films)
Of Mexican newcomer Vadhir Derbez, Mexican stud Sebastián Zurita and the ever-gorgeous Colombian Paulina Dávila, only Dávila had seen the original movie 3 Idiots, India's 2009 comedy, drama film co-written, edited and directed by Rajkumar Hirani while produced by Vidhu Vinod Chopra.
"Yes, I had seen it," says Dávila while tending to media during press day in late May at the Four Seasons Hotel Los Angeles at Beverly Hills. "I had the fortune of seeing it when I was in India as it first released."
Dávila also mentions that in India, the public hits the movie theaters hard; they very much like and enjoy film. 3 Idiots has been around for about eight years, and now it's being remade by Pantelion Films.
Enter Derbez, Zurita and Dávila – alongside Alfonso Dosal, Christian Vazquez, German Valdez and Martha Higareda – and 3 Idiotas, which seems to be a perfect remake of the Indian film. Not only does 3 Idiotas aim to make you laugh nonstop, it also strives to reach your hearts with the themes it conveys.
3 Idiotas follows three passionate nerdy friends and a rival from college in Mexico. But one seems to have disappeared (on graduation day), and two of the nerdy students and their rival go in search of the long-lost buddy who vanished. What ensues is pure laughter and a treat in accepting and learning life lessons.
Derbez, who plays an annoying student named Isidoro, says, "The movie is really about that: three idiots who follow their passions. It's about them dreaming and not seeing anything as impossible."
"That's the beauty of this film," says Zurita, who portrays Emiliano – the fiance of Diana (played by Dávila). "It isn't just about the comedy – since we know comedy sells well – but it's also a film for the family, of any age group, to enjoy."
And the cast, they mesh well, making it an ideal lineup for the flick.
"We enjoyed all of our roles, and the chemistry proved essential," says Derbez. "I am also very thankful that [director] Carlos Bolado let me improvise as much as I did throughout the shoots."
But why should people watch this film?
"It's a comedy that entertains, and you'll enjoy it," says Derbez. "But it has a message, and it will leave you thinking. I do believe that [3 Idiotas] will reach mindsets and make people change. And this movie has the power to do that because it touches so many important points that people go through, like what career you should choose or what you should do in life."
Dávila adds, "I think it's a very inspiring movie. You go and laugh, basically, but you'll come out inspired by the stories of these kids. And it's also a really fun and entertaining movie."
"There are a broad range of characters, and you can identify with [any of them]," says Zurita. "There are so many storylines in between the same characters. There are so many struggles they go through. One could be a career. One could be friendship. One could be happiness. One could be love. At the end of the day, we do this work for connections, to connect with people. So, hopefully, people can understand that."
3 Idiotas is now in theaters.
Video Slider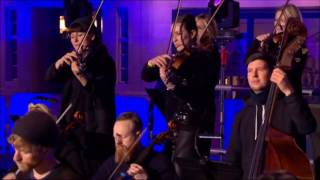 Win Tickets to See Pete Tong at Hollywood Bowl
Pete Tong is back in Los Angeles, and your chance to see him perform is at Hollywood Bowl on Thursday, Nov. 9. We are giving away complimentary tickets to the show. For a chance to enter to win, email us at info@lol-la.com with "Pete Tong" in the subject line and tell us why you would like to go.