VEP Steve Gaub Talks Disney's Beauty and the Beast
Dan Stevens as Beast and Emma Watson as Belle in Disney's Beauty and the Beast, now available on Blu-ray. (Walt Disney Studios)
Beauty and the Beast has already grossed over $1.2 billion worldwide, and today's Blu-ray release will more than certainly add to that.
Why? Simply put, this version starring Emma Watson as Belle, Dan Stevens as the Prince/Beast and Luke Evans as Gaston, is stunning from beginning to end. It hits home with its story line and all the characters involved.
Steve Gaub (Oblivion, TRON: Legacy, Terminator Salvation), the visual effects producer of the film, says that both Watson and Stevens were perfectly cast for their roles in Beauty and the Beast.
"Everything Emma brought to the table in terms of making Belle her own … I think she totally nailed all of that," says Gaub. "And Dan … He nailed the Beast. We saw that in all the shoots, he inhabited everything about the Beast."
As it is typical in any type of work, challenges always come and go.
"Lots of challenges, everything was a challenge in some way or another," says Gaub. "You have the castle and the staff, and we had to figure out how to bring them to life but also make sure they have personality."
Having the actors interact with other actors, how to do the visual effects and even the Beast's wardrobe were a challenge – but good ones, of course.
Gaub adds, "That was a big part of it. We were doing things that we hadn't done before. .. A lot of it was us coming together and figuring it out ourselves."
All of this was executed with enormous communication and talented craftsmen, according to Gaub.
And that was also the case with Gaub's collaboration and ongoing communication with director Bill Condon and producers David Hoberman and Todd Lieberman.
"It was massive and continuous all very early in pre-production, throughout the shoot and through post-production," says Gaub.
Whether it was a discussion about the characters, film materials or animation, among other things, communication became vital for all involved.
But how happy is Gaub with his work?
"This movie, probably more than any other, I think we all walked away very satisfied."
He adds that it really was about putting the director's vision on the screen.
Gaub says that both he and Condon walked away with a smile.
"There are a lot of fun extras on the DVD," says Gaub, answering why people should purchase today's release. "From my perspective, and I think Bill's as well, I think it's the most beautiful version of the film. The images are just richer and deeper. I think people will see details in the Blu-ray that they completely missed in the theater."
Beauty and the Beast is now available on Blu-ray, DVD and Digital HD.
Video Slider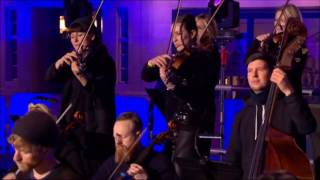 Win Tickets to See Pete Tong at Hollywood Bowl
Pete Tong is back in Los Angeles, and your chance to see him perform is at Hollywood Bowl on Thursday, Nov. 9. We are giving away complimentary tickets to the show. For a chance to enter to win, email us at info@lol-la.com with "Pete Tong" in the subject line and tell us why you would like to go.