VidaLexus' Té Para Tres Lives Up to Expectations
Members of the band Kinky perform on stage during VidaLexus Presenta: Te Para Tres Live Concert Series at Avalon on January 14, 2015 in Hollywood, Calif. (Photo by JC Olivera/Getty Images for Walton Isaacson Agency)
"Te Para Tres" kicked off their concert series sponsored by Vida Lexus at the Avalon in Hollywood – one of several concerts scheduled around the country. Luxurious style abounded, as is Lexus' trademark when they sponsor these events. It was a very intimate gathering with celebrity guest stars, where all in attendance enjoyed a phenomenal show, as well as appetizers and specialty drinks. Those in attendance were also introduced to Lexus' new Lexus NX model.
Among the celebrities present were Kinki, Marlon Moreno from "El Capo" fame, beauty queen Melissa Marti, "Al Rojo Vivo" host Jessica Carillo, Maria del Pilar, RaqC from 93.3FM, and DJ Eddie One.
Pili Motilla, the event's host and presenter on "Te Para Tres," shared her excitement about the success of the concert series, as well as the show's success. "I feel so very happy because for me, this is a dream come true. I came up with the idea for the show about 3 years ago, and now we're on a nationally broadcasted network and can host the show live. I can almost cry, I'm so happy."
"Te Para Tres" is now on its second season, and airs Saturdays, 9/8c, on MegaTV. Montilla is the show's creator, and was recently nominated for an Emmy. "The show's main objective is for the show's audience to grow their musical knowledge and evolve their musical palate. It's also a chance for these artists to inspire us through their personal experiences and their art. These artist are very, very talented and deserve a chance to showcase their work."
Kinki is currently promoting their latest album, which is an acoustic take on their usual style and is scheduled for release on February 10 of this year. The band will go on a brief tour throughout Califormia, making stops in San Francisco, Santa Cruz, Anaheim and Los Angeles. Kinki front-man Gil Cerezo also spoke with LOL about how thankful the band is for the opportunity to be showcased in this series, and the band's experience making this album. "The album is an MTV Unplugged version, and for us this marks a great experiment because we're so far removed from our genre. It involved the use of many new instruments and several guest stars such as Grupo Pesado, Los Recorditos, and Karla Morrison who sings with us on the first single "A Donde Van Los Muertos."
Marlon Moreno, the Colombian star of the hit novela "El Capo", also spoke with us about whether or not he is concerned about being typecast for his portrayal of a drug lord. "No, I've moved past that at this point. I always approach my characters professionally, and this is a character I have been involved with for the past 5 years. It's a character that thank God has given me the opportunity to be noticed around the world. It also gives me the opportunity to tell those people about the other things I can do, and everything I have to offer as an actor."
The event ran from 7pm for the red carpet, where the starts offered interview for the media, followed by a press conference and a reception. The concert was a delightful affair, with music from Kinki and a dance party hosted by DJ Eddie One.
The "Te Para Tres" concert series will continue in Miami with Grupo Afrobeta, in Houston with La Santa Cecilia, and in New York with La Mequanica Popular. For more information, visit www.vidalexus.com.
Video Slider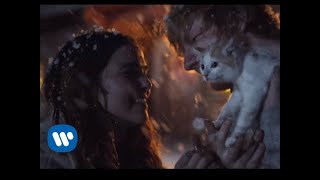 Win Tickets to See Ed Sheeran at the Rose Bowl
Ed Sheeran is back in Los Angeles, and your chance to see him perform is at the Rose Bowl in Pasadena on Saturday, Aug. 18. We are giving away complimentary tickets to the show. For a chance to enter to win, email us at info@lol-la.com with "Ed Sheeran" in the subject line and tell us why you would like to go.