Will Venice's Ballerina Clown Dance Again?
Jonathan Borofsky's Ballerina Clown sculpture at Rose Avenue and Main Street in Venice Beach. (Jonathan Borofsky)
Soon after I moved to Venice Beach in the late 1980s, a large complex was erected nearby on the corner of Rose Avenue and Main Street called the Venice Renaissance Building, designed by architect Johannes Van Tilburg and completed in 1989. The large, mixed-use structure takes up half of the entire block bounded by Rose Avenue, Main Street, Pacific Avenue and Navy Street with retail shops, restaurants, condominiums and several low-income senior housing units.
On its corner facade that faces Main Street and Rose Avenue, above the CVS drugstore, stands the famous (or infamous to some) sculpture titled Ballerina Clown, by the internationally renowned American artist Jonathan Borofsky. The art piece was commissioned at a cost of $300,000 by developer Harlan Lee & Associates, who sold the building in 1990.
When it was first unveiled, the sculpture caused a big stir in the community, not just for its odd aesthetics – it looks like a female ballerina with a large clown mask and gloves standing on a crate – but also because it would kick out one of its legs continuously and "sing." This 30-foot tall giant would "dance" and belt out the Sid Vicious version of the Frank Sinatra classic "My Way" throughout the evening to the chagrin of its neighbors. Needless to say, the song was the first to be cut out (a few days after its debut) due to complains coming mostly from the condominium residents that reside in the building, followed by the shutting down of the "kicking leg" a bit later.
For its 25th anniversary, Ballerina Clown might be "kicking it" again in Venice between 1 p.m. and 6 p.m., according to a possible arrangement with the current Renaissance housing association and former owner Harlan Lee. If this eventually happens (I have yet seen it move.), Borofsky's original intention, to show the diversity and dichotomy of Venice Beach in this work of art, will be restored.
Video Slider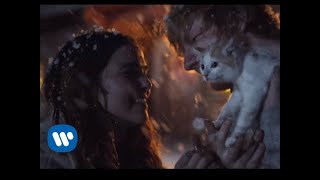 Win Tickets to See Ed Sheeran at the Rose Bowl
Ed Sheeran is back in Los Angeles, and your chance to see him perform is at the Rose Bowl in Pasadena on Saturday, Aug. 18. We are giving away complimentary tickets to the show. For a chance to enter to win, email us at info@lol-la.com with "Ed Sheeran" in the subject line and tell us why you would like to go.