Win Passes to a Friend Request Screening on Sept. 21
Win passes to a Friend Request screening on Sept. 21.
Friend Request stars Alycia Debnam-Carey, William Moseley, Connor Paolo, Brit Morgan, Brooke Markham and Sean Marquette.
Friend Request releases in theaters on Friday, Sept. 22.
We are giving away passes to a screening of Friend Request on Thursday, Sept. 21, at 7:30 p.m. in Burbank.
To RSVP, visit gofobo.com/FRIENDLOLLA
This contest ends on Thursday, Sept. 14 at 1 p.m.
More info on the film
Popular college student Laura (Alycia Debnam-Carey) has tons of friends, both on Facebook and IRL. She graciously accepts social outcast Marina's (Liesl Ahlers) online friend request, until Marina crosses the line and Laura unfriends her. To everyone's shock, Marina takes her own life in a ritual meant to torment Laura, which appears in a video posted on Laura's profile. Even though it wasn't Laura who posted the video, or other creepy content that begins appearing on her page, her Facebook friend count begins to dwindle as a result. When her real-life friends start dying mysterious, cruel deaths, Laura must figure out how to break the deadly curse before it's too late.
Video Slider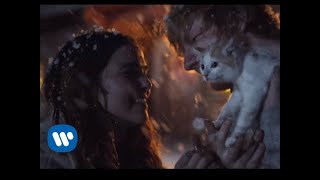 Win Tickets to See Ed Sheeran at the Rose Bowl
Ed Sheeran is back in Los Angeles, and your chance to see him perform is at the Rose Bowl in Pasadena on Saturday, Aug. 18. We are giving away complimentary tickets to the show. For a chance to enter to win, email us at info@lol-la.com with "Ed Sheeran" in the subject line and tell us why you would like to go.