Win Tickets to See Train at Hollywood Bowl
Win tickets to see Train at Hollywood Bowl.
Train is back in Los Angeles, and your chance to see them perform is at the Hollywood Bowl on Saturday, May 13. 
We are giving away complimentary tickets to the show.
For a chance to enter to win, email us at info@lol-la.com with "Train" in the subject line and tell us why you would like to go.
This contest ends on Friday, May 12 at 1 p.m.
More info on Train
Train is a Grammy Award-winning rock band formed in San Francisco, Calif. To date, three of their albums have peaked in the top 10 of the Billboard 200 and have sold a total of over 4 million albums in the US. Four of their songs have been top 20 hits on the Billboard Hot 100 including their highest charting (No. 3) and best-selling (certified 5x Multi-Platinum by the RIAA) worldwide hit "Hey, Soul Sister." Train has found success on modern adult contemporary radio stations, where they have had four #1 songs on the Hot Adult Top 40 Tracks chart, the latest being to date their most successful (peaking at No. 34) secondary single off an album, "If It's Love."
What started as two guys with strong voices and one guitar became San Francisco's Train by 1994. It was in late 1993 that Patrick Monahan left Erie, PA, and met up with the Los Angeles band, the Apostles. Lead singer/guitarist Rob Hotchkiss and fellow guitarist Jim Stafford had basically disbanded by this time, but the chance meeting with Patrick Monahan proved fortuitous, as Hotchkiss extended an invitation to the crooning Monahan to become a two-man band. After making exhaustive appearances in low-key coffeehouses, they decided to form a full band and enlisted former Apostles members Stafford and bassist Charlie Colin. Colin brought along his good friend, drummer Scott Underwood, and Train were on their way.
Train settled in San Francisco to develop their sound in a relaxed, laid-back atmosphere. In an unlikely scenario, executives from Columbia Records expressed an interest and, in a somewhat cooperative strategy, farmed the fledgling band out to the minors – in this instance, Aware Records – where they could grow naturally and unhurriedly. In 1997, they went on tour, opening for the likes of Blues Traveler, Barenaked Ladies and Counting Crows. Train knew they had arrived when they sold out a performance at San Francisco's prestigious Fillmore venue. Their completed debut album was released the following year. Drops of Jupiter followed three years later, becoming a 2x Platinum hit on the back of its single of the same name. My Private Nation followed in 2003. Though response was initially weak, the single "Get to Me" eventually caught fire, and Train had their latest Billboard chart hit. A holdover live album appeared in 2004 while the band returned to the studio to record My Private Nation's follow-up. The single "Cab" announced the band's return in late 2005, with the full-length For Me It's You following early the next year.
From November 2006, the band took a break from recording and touring to be with friends and family. Lead singer Pat Monahan released a solo album, Last of Seven, on Sept. 18, 2007. The first single, "Her Eyes," was released in July.
On Oct. 27, 2009, Train not only released proof that they were once again a band, but also put their fifth studio album on the market, Save Me San Francisco. Dedicated to get back to where they came from, the album revisited the roots rock sound that has made the band such a tour de force. The album is a tribute to the city that made them who they are today and pays homage to the city by the bay that they owe so much.
The first single from Train's sixth studio album, "Drive By," was made available on iTunes Jan. 10, 2012, a week after Train played the halftime show at the 2012 Discover Orange Bowl in Miami. This upbeat pop/rock tune was the first song to be released from Train's sixth studio album. It was already familiar to some of their fans as the band had been performing the tune during their 2011 Summer Tour. Train's singles tend to gradually build momentum, but this song debuted at No. 60 on the Hot 100 in its first week as Triple A, hot AC, and pop radio all embraced the song with enthusiasm.
————————————————————————
What: Train, Saturday, May 13 at 7 p.m.
Where: Hollywood Bowl, 2301 Highland Ave., Los Angeles 90068
Tickets: ticketmaster.com 
Video Slider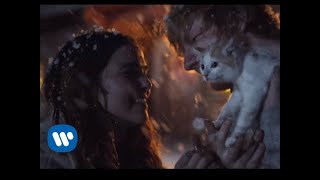 Win Tickets to See Ed Sheeran at the Rose Bowl
Ed Sheeran is back in Los Angeles, and your chance to see him perform is at the Rose Bowl in Pasadena on Saturday, Aug. 18. We are giving away complimentary tickets to the show. For a chance to enter to win, email us at info@lol-la.com with "Ed Sheeran" in the subject line and tell us why you would like to go.