Wonder Woman's Gal Gadot on Ancient Female Warriors and Finding Your Inner Light
Gal Gadot stars in Wonder Woman.
Wonder Woman has always been a beloved character, whether from her comic book origins or Lynda Carter's portrayal of her in the '70s television show, but no person loves the character more than the woman who now portrays her onscreen, Gal Gadot.
"I think she embodies all of the most wonderful qualities that I love in people," Gadot says. "She's curious, warm, loving and very inclusive. She assumes the best out of everything. She's curious and sassy and has her own attitude, but at the same time, she's not perfect. She can be vulnerable, confused and naive. I love everything about her because she's not perfect. She's whole and interesting."
What Gadot finds best about Wonder Woman is her sense of compassion, which she and director Patty Jenkins felt was necessary to convey.
"I remember when Patty and I first met. We were having dinner in a restaurant and started talking about our families and our lives. I told her about my grandfather, who was a Holocaust survivor, and how he taught me that no matter how dark it gets in life, you need to find your inner light. I think compassion is a big thing, and it was important for both of us that this movie had a profound message that everyone can relate to and everyone can take this home and practice."
The Wonder Woman film is a departure from standard comic-book movies in several ways, not simply because it is the first solo outing for this character while characters like Batman and Superman have had at least a half dozen films each. Wonder Woman" features almost exclusively female superheroes, the Amazon fighters of Themyscira, and the filmmakers adapted the fighting style for the Amazon warriors, who include Robin Wright of "House of Cards" and Connie Nielsen of Gladiator alongside Gadot. According to Gadot, the filmmakers drew on ancient fighting styles that they believed actual women warriors once used.
"Our stunt team would come up with a way of fighting that women probably used thousands of years ago when there were actual women warriors, using a horse and a bow and arrow. I think that's why when you see those scenes, it looks spectacular. That's probably what women did in combat for a thousand years."
The effect of this on Gadot was a strenuous shoot with numerous injuries.
"I was bruised all the time. It was nothing major, though, just a mark here and a mark there. The most painful thing was when I stepped on a sea urchin on the beach in Italy. But we worked with such professionals that there was no room for mistakes."
The same cannot be said for Gadot's co-star, Chris Pine. The sometime action star had a far less strenuous training regimen than the rest of the cast, he explains.
"What did I do? Not a god damn thing! The women had to train and do a lot of choreography, whereas I just had to show up, run and shoot a gun while making it look like I knew what I was doing. I usually play characters who have been educated in barroom fights. They get it done as quickly and as messy as possible. Any time I see anything too sharply defined, I want to make it as messy as possible."
Pine could not share the same stories of hardship that Gadot and the actresses playing the Amazons could.
"I had great fun," he says, "We shot in Italy, and it was me with a hundred beautiful women in sarongs. A vacation in Italy with Amazon warriors? One man's hell, one man's heaven!"
Wright, who plays the Amazon General Antiope, had less training than Gadot for Wonder Woman, but unlike Pine, it was not to her benefit. Because of her schedule, she could not join the cast for their initial training, but still had to catch up with the rest of the women before shooting began.
"The rest of the cast spent two months becoming Incredible Hulk females, and I came in scrawny and bony. And I'm supposed to be their general! I had four weeks to get into shape, and the most challenging thing was just how much caloric food I had to ingest. That was sickening, just to put on mass quickly. I loved getting injured from doing too many squats yet trying to hide it from everyone else. I wouldn't be able to sit, but I'd demand the girls give me 10 more and cheer them on."
With Wonder Woman, questions inevitably arise about female superheroes, who rarely appear in comic-book movies and, like with Black Widow in the Marvel series, rarely get their own films. Jenkins, who directed Charlize Theron to an Oscar for Monster, has to deal with moviegoers' preconceptions about gender in action movies
"It's interesting that there's this idea that action movies are more attractive to one gender than another. The truth is that action is not different from any other story. As a woman, it was interesting to me to approach the fight sequences in a different way. There were several moves, like punching in the face, that I would discard because I didn't think the Amazon women would use. They would get the job done, but not that way. And I didn't feel like my Amazons would be screamers, because they're going to be efficient, doing it as fast as they could. It's a different approach because they become badass in a whole different way, with this deft ability to surprise."
What Jenkins also brings to the movie is the sense that she was bringing something special and new to the blockbuster with Wonder Woman.
"The scene I felt the most duty to was the one in No Man's Land," Jenkins explains, "Any superhero's first step into battle in their costume is an amazing moment, and it's wonderful to distinguish it from others you've seen. The important thing was for her not to be in the costume for a long time, so when she makes the decision to put it on and step out, you're now in the view of the character and saying, 'Oh my god, it's Wonder Woman!' In the first Superman movie, it's 67 minutes before he shows up, and you can't believe how good it is when he shows up and flies. This is a different tone, but it's the same type of moment. I want you to be completely teed up for the moment when she turns into Wonder Woman."
Wonder Woman is in theaters June 2.  
Video Slider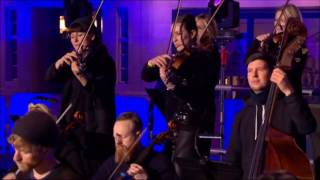 Win Tickets to See Pete Tong at Hollywood Bowl
Pete Tong is back in Los Angeles, and your chance to see him perform is at Hollywood Bowl on Thursday, Nov. 9. We are giving away complimentary tickets to the show. For a chance to enter to win, email us at info@lol-la.com with "Pete Tong" in the subject line and tell us why you would like to go.